2D1N Mt Kinabalu Climb (Malaysians Only)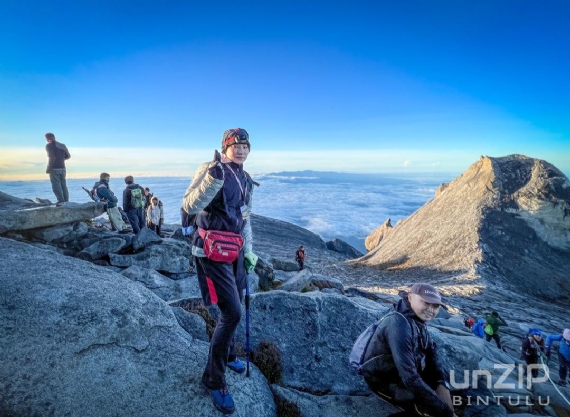 MALAYSIANS

ONLY
Mt Kinabalu, the icon of Sabah Malaysia is world famous for being one of the highest peak in South East Asia. Mount Kinabalu comprised of a vast jagged granite massif as high as 4101 metres tall. The mountain is the peak of the whole Kinabalu Park which covers an area of 754 square km. It includes vegetation types ranging from the rich lowland dipterocarp zone through the montane oak, connifer forests to alpine meadow plants and stunted bushes at summit zone. It is one of the richest flora in the world.
Day 1: KOTA KINABALU / KINABALU PARK HQ / TIMPOHON GATE / ASCEND
MOUNT KINABALU / LABAN RATA
6am: We pick you up from hotel and depart on a 2 hours journey to Kinabalu Park Headquarters where you will collect your packed lunch.
9am: Our licensed guide will arrange all your necessary registrations, assign you a mountain guide and give you an ID Tag to be worn at all times.
You will then proceed to Timpohon Gate, the starting point of your journey to conquer Mount Kinabalu. This first part of the climb will take you around 4-5 hours depending on your level of fitness and speed.
There are 6 shelters along the way for you to refill your water bottle and take a rest. Enjoy the panoramic view of the rainforest. You will pass beautiful vegetation that changes as you go higher, from Oak and Chestnut to mossy and later alpine vegetations.
3:30pm: We will arrive at Laban Rata and check into the rest house or similar in late afternoon. 7pm: We will be served buffet dinner at Laban Rata restaurant and we stay overnight there. (Packed lunch, Buffet Dinner)
Day 2: LOW'S PEAK / DESCEND MOUNT KINABALU / KOTA KINABALU
2am: We will wake up early for supper. Remember to bring along your flash light and camera. We then depart for continuation of journey towards the summit of Mount Kinabalu. The climb will be tough and will be towards Low's peak (4,095.2m). you will test your level of fitness, grit and determination.
3:00 am - Your ultimate and final attempt to conquer the summits of Hugh Low's Peak at 4,095.2. You are now on the peak of Mount Kinabalu, the highest peak of South East Asia.
5:45 am – This is the time to witness the spectacular sunrise, the most breath taking view you will ever see.
7:00 am – We will now descend to Laban Rata for breakfast.
10:00 am – Check out and proceed to Timpohon Gate for transfer back to Kinabalu Park Headquarters. We will arrive between 1pm-3pm. Your guide will register with the park authorities that you have completed the climb. You will then be given a certificate of achievement for completion of the climb.
Lunch will be served at the Balsam restaurant in Kinabalu Park. We will then transfer you back to Kota Kinabalu city which will take you 2 hours or you have the choice to take an optional tour to Poring Hot Spring to soak your sore limbs in the hot spring there. ( Early Supper, Breakfasts and Lunch)
SPECIAL NOTE: It is recommended that all climbers should have themselves medically checked before attempting any mountain climb. If you have a history of suffering from the following ailments, it is highly recommend that you should refrain from climbing: Hypertension, Diabetes, Palpitation, Arthritis, Heart disease, severe anemia, Peptic ulcers, Epileptic fits, Obesity, Chronic asthma, Muscular cramps, Hepatitis (jaundice) or any other disease which may hamper the climber.
The above information provided by Sabah Park. PHYSICAL FITNESS IS REQUIRED
Meals (1 Breakfast, 2 Lunches, 1 Dinner & 1 Supper), 1 Night Accommodation at Laban Rata Rest House or similar (non heated dormitory), Entrance Fee, Return Hotel Transfer (Seat-In-Coach), Return Transfer (Park HQ – Timpohon Gate – Park HQ), English Speaking Mountain Guide, Climbing Insurance and Climbing Permit.
Excludes: Airfares, Certificate, Optional Tipping & Porter Fee, Alcoholic Drinks, Any Items Not Mentioned, Mountain Guides' overtime after 1800hrs during climbing.
----------------------------------------------------------------------------------------------------------
NB: If you hire services below, you need to pay separately there.
| | | |
| --- | --- | --- |
| DESTINATION | WEIGHT (KG) | RATE |
| 1.Timpohon gate – Laban Rata | 10.00 | RM 65.00 |
| 2.Laban Rata – Timpohon gate | 10.00 | RM 65.00 |
| 3.Timpohon gate – Sayat-Sayat | 10.00 | RM 75.00 |
| 4.Sayat-Sayat – Timpohon gate | 10.00 | RM 75.00 |
| 5.Timpohon gate – Summit | 10.00 | RM 80.00 |
| 6.Summit – Timpohon gate | 10.00 | RM80.00 |
2) Mt guide overtime (after 6:00pm) MYR 40.00 per hour per guide.

+60 82 570 340 / +60 16 4123 304

ask@njoyborneotours.com

No.385-G, 2nd Flr, SL10, Lot 17824, Star Point Angle Commercial Centre, Jalan Stutong, 93350 Kuching, Sarawak, Malaysia